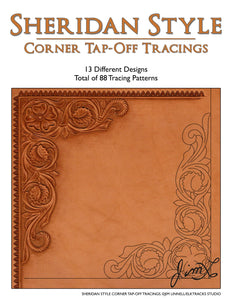 Many of the patterns in this packet were taken from Tap-Offs that have seen some use. Some have been modified to have a more Sheridan type look, which is so popular these days. There are 13 different corner designs on 22 pages. This pattern pack has a total of 88 tracing patterns of varying sizes and orientations.
Long before the hobbyist ever had the plastic templates to transfer the outline of their carving to the leather, saddle makers were making their own transfers. They made what is known as Tap-Offs.
The idea for Tap-Offs was born out of necessity. When stamping a pattern on a saddle, it is necessary to mirror the pattern for the skirts or fenders. The maker would work out his pattern for one side, cut it into the leather and then flip it over onto the piece that needs to match, which would be all cased up, and tap off the pattern. This would leave that pattern slightly raised and let him stamp a mirror copy of the other fender.
Leather craftsmen have been using this method for many generations for any pattern that they use a lot. Repeating belt patterns, wallets, spur straps, chap tops and other items got made into Tap-Offs so they could be used over and over again. They are a huge time saver.